fairphone 4 refurbished
New Life
Edition.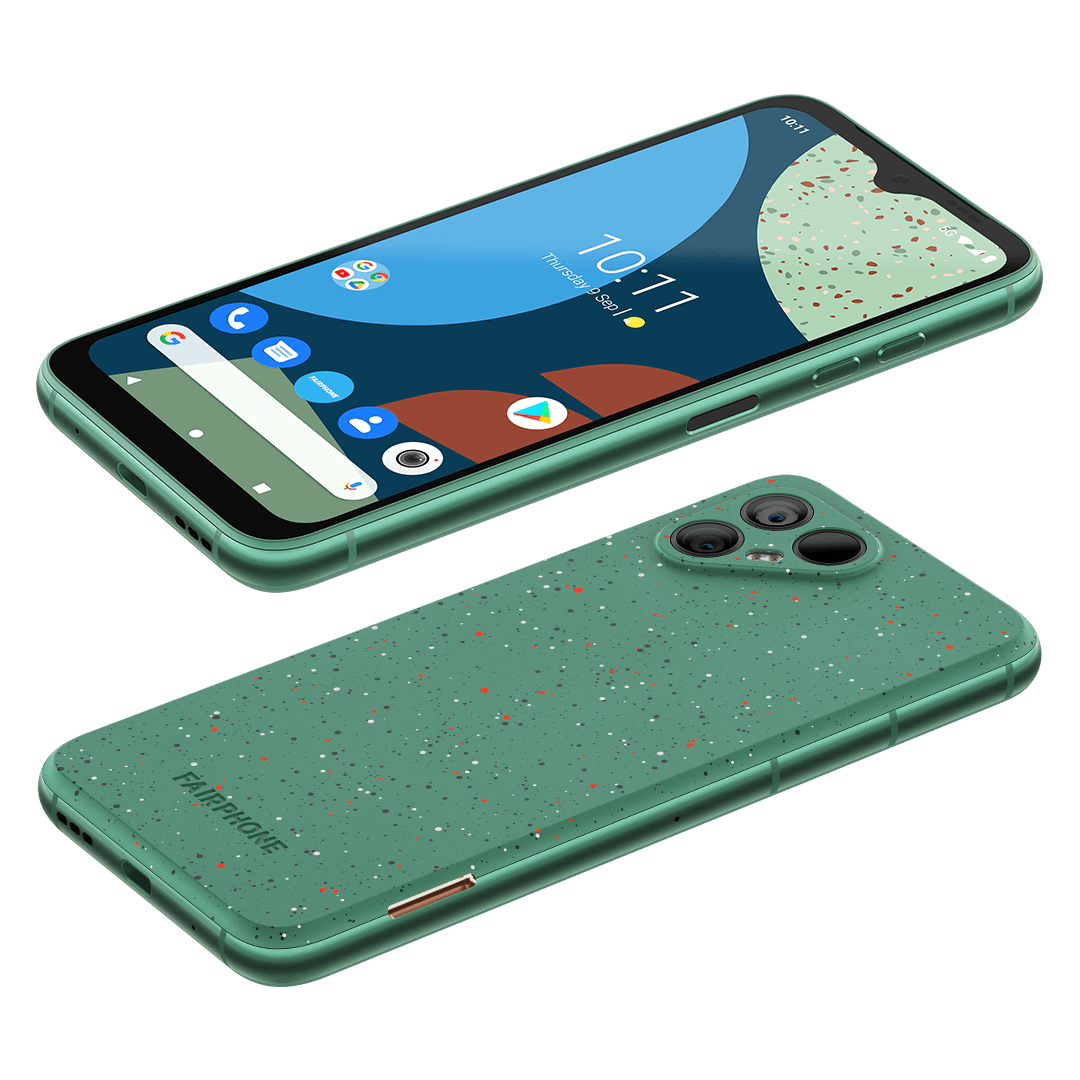 The Fairphone 4 New Life Edition is a phone with a past, for a future with you. It's sustainable, long lasting, fair and fully refurbished - all at a lower price. That's better than new.
Refurbished? Yes, please.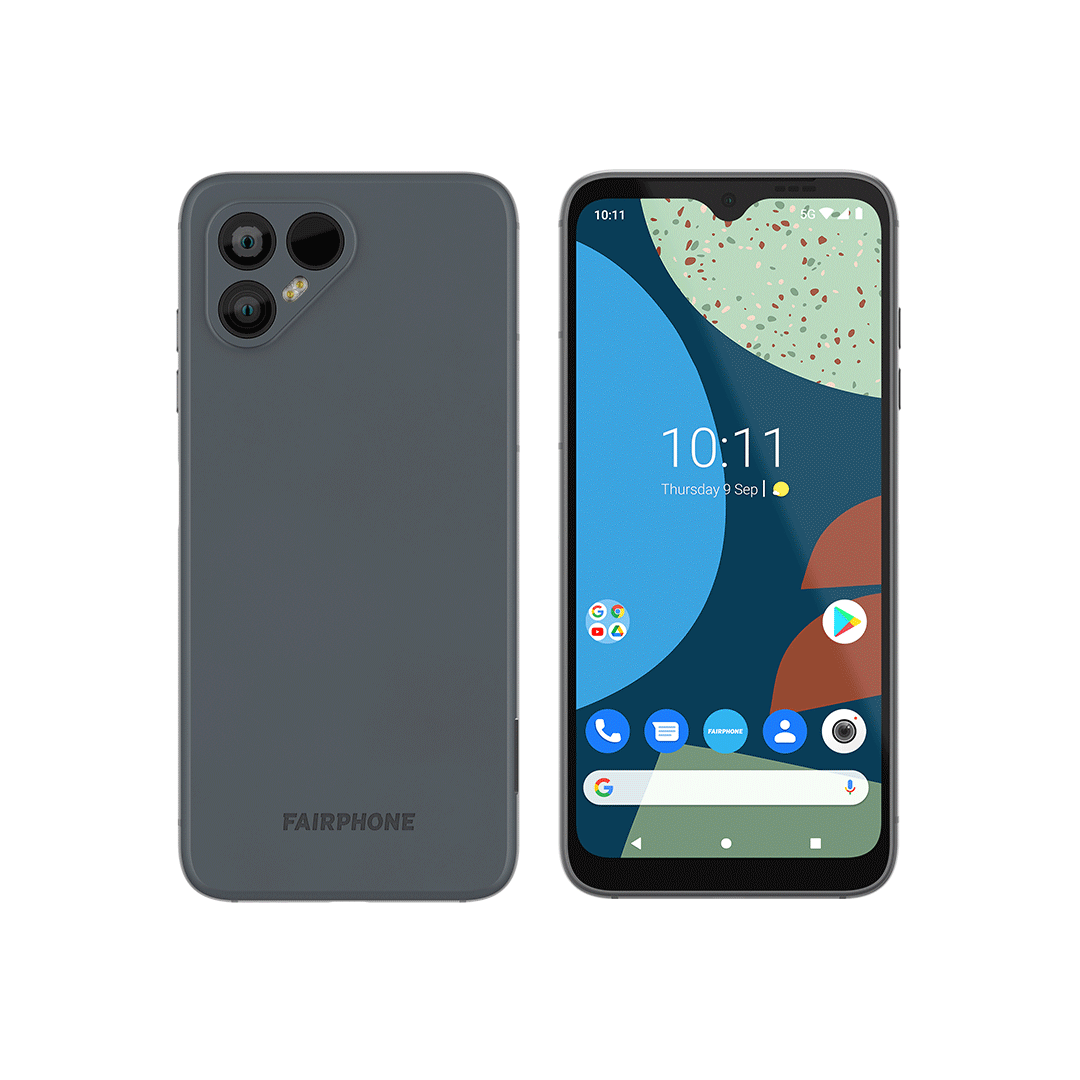 FAIRPHONE 4: new life edition
It's the same great Fairphone 4. Just fully factory refurbished and priced even lower. That's easier on the planet and your wallet.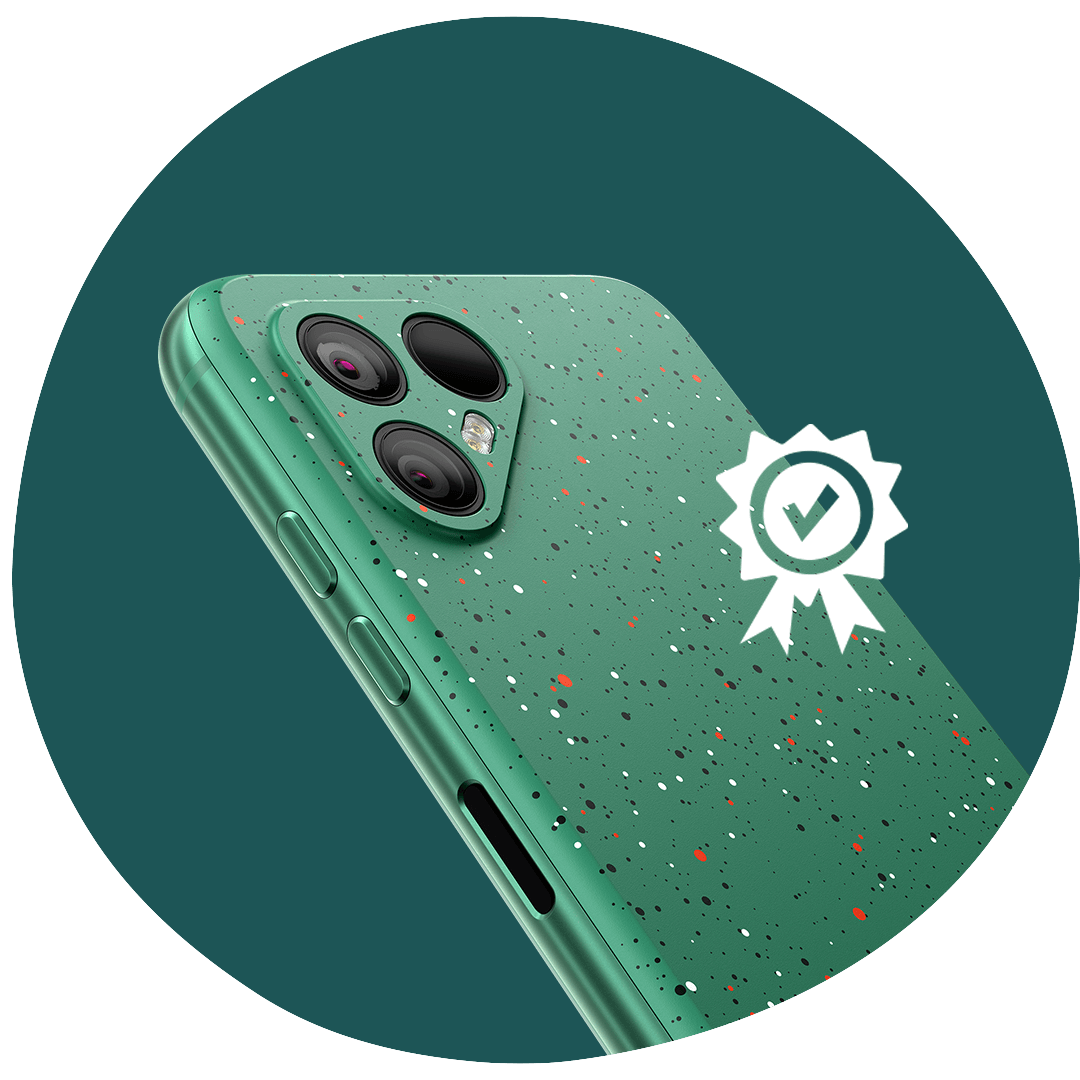 5 years warranty
Your refurbished Fairphone 4 is covered so you don't have to worry. It's that simple. T&C's apply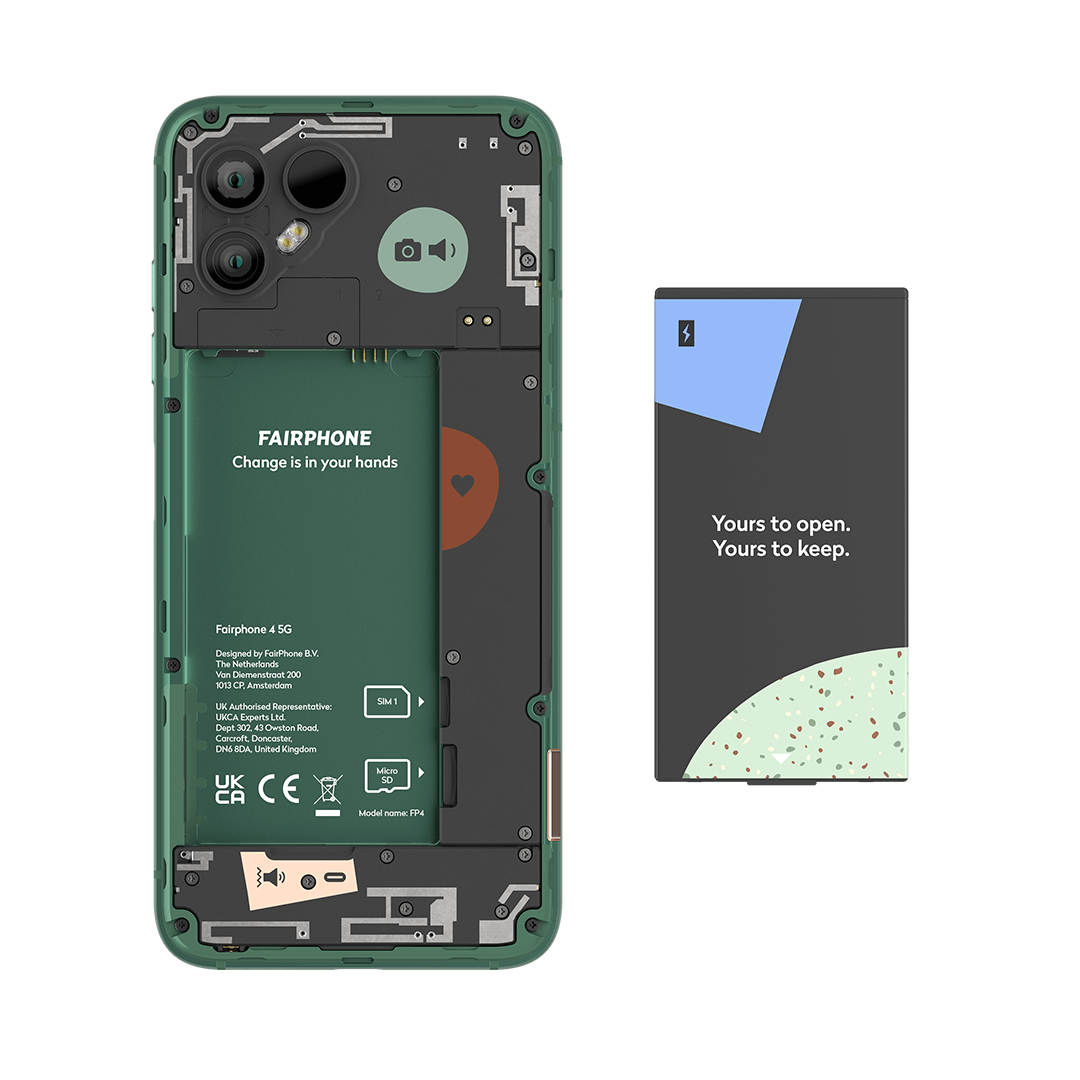 software that lives on
Reliable software support to keep your phone running smoothly for years? We've got you covered.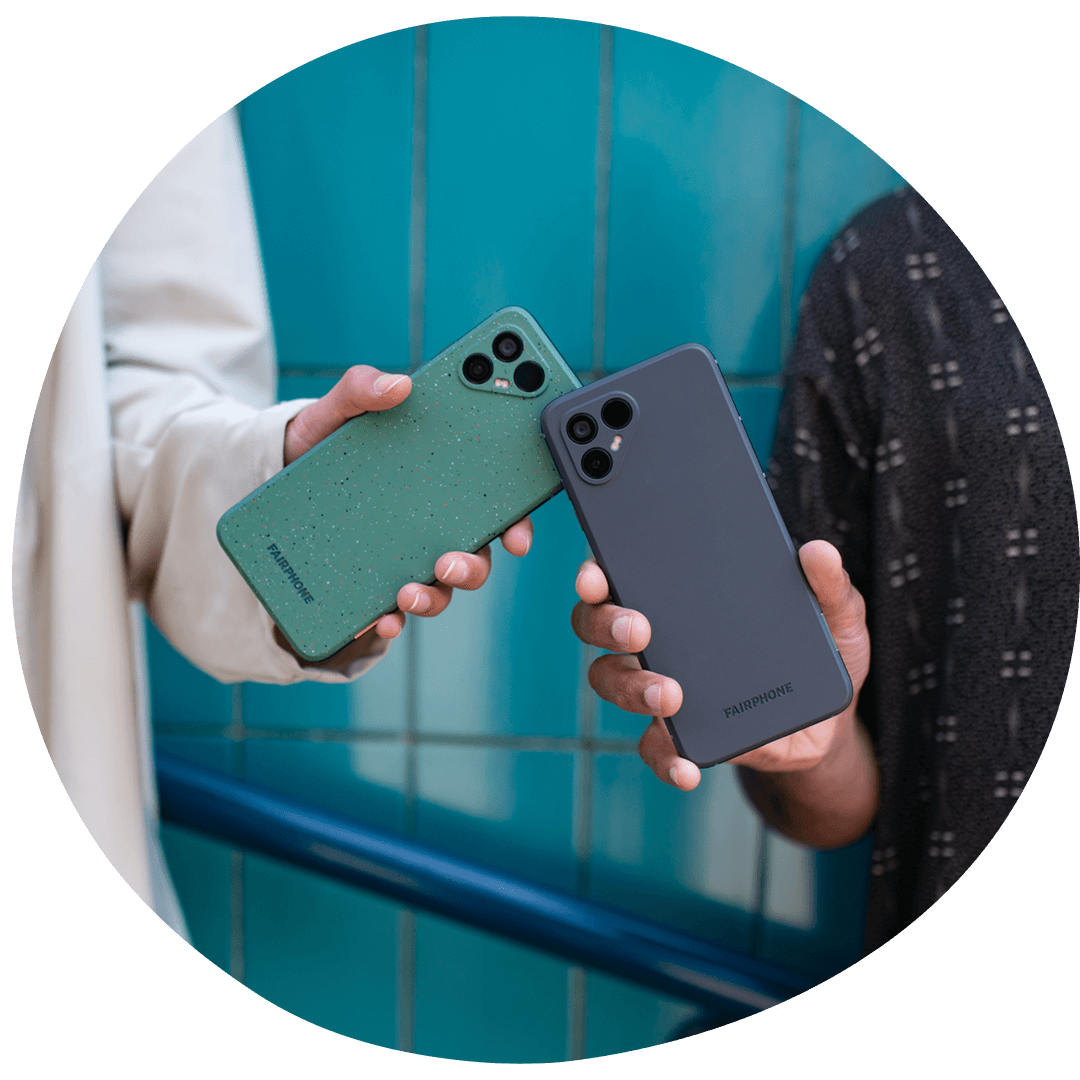 feels like a lifehack
Affordable
Future proof
Impactful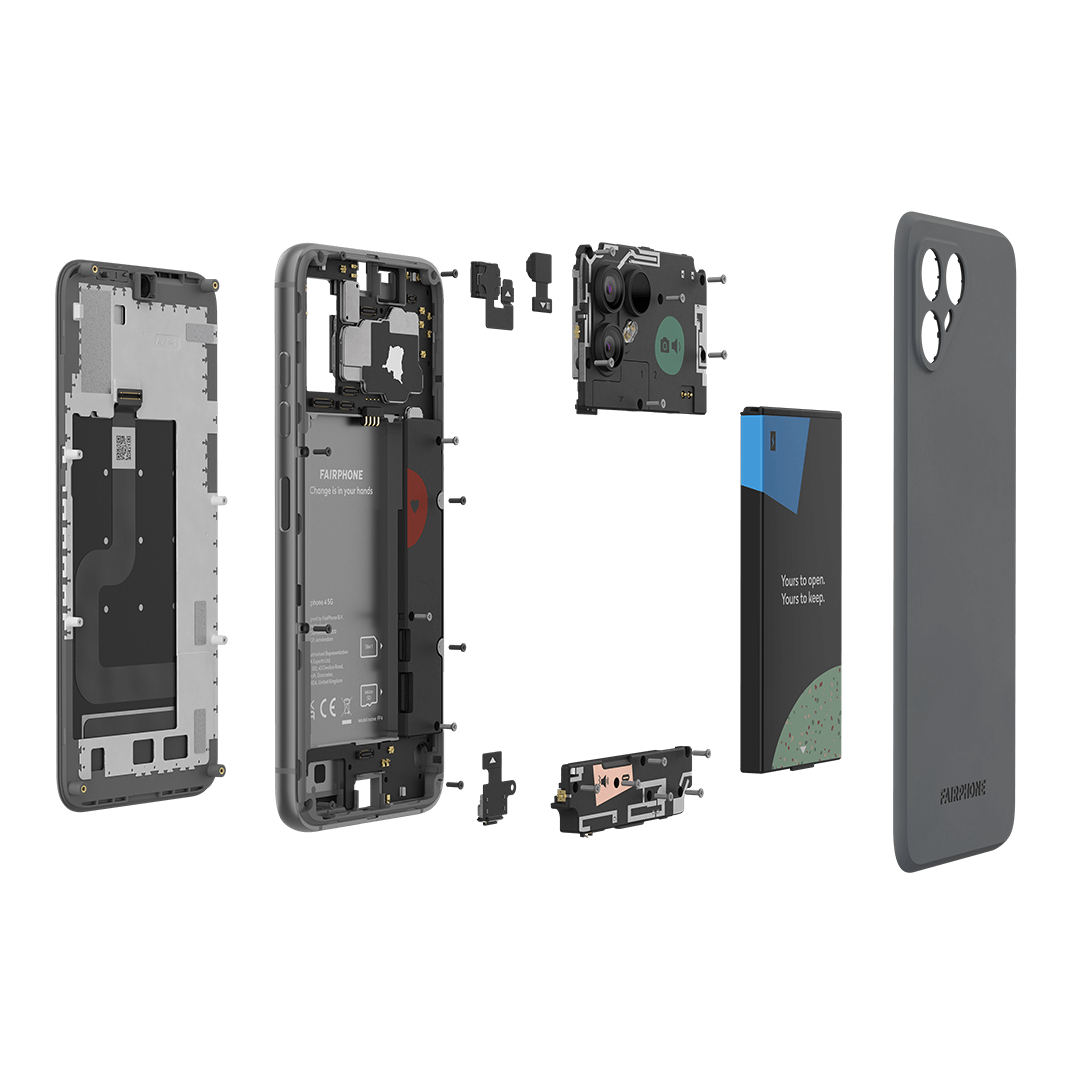 easy to repair
Iconic repairable design: Replace or fix just what you need in minutes and make it last.
Here's how it works
1
After less than a month of Fairphoning, the phone is returned
2
We give the phone a full factory makeover and repackage it
3
The phone is sent off again for a long life with you
Take pride in what you own.
yOUR PHONE MADE WITH PURPOSE INSIDE AND OUT.
Everything you need in the palm of your hand.
High-powered
Your phone was made to be enjoyed. With a speedy processor, expandable storage and great battery life, the Fairphone 4 is ready for anything.
Built to last
Robust design built with care and quality. With easy access to customer support and modular parts, your phone will remain by your side.
5-year Warranty
Keeping your phone for 5 years cuts CO2 emissions by 31%. Which is why we include long-term support and software updates backed with a 5-year warranty.
All about your Fairphone 4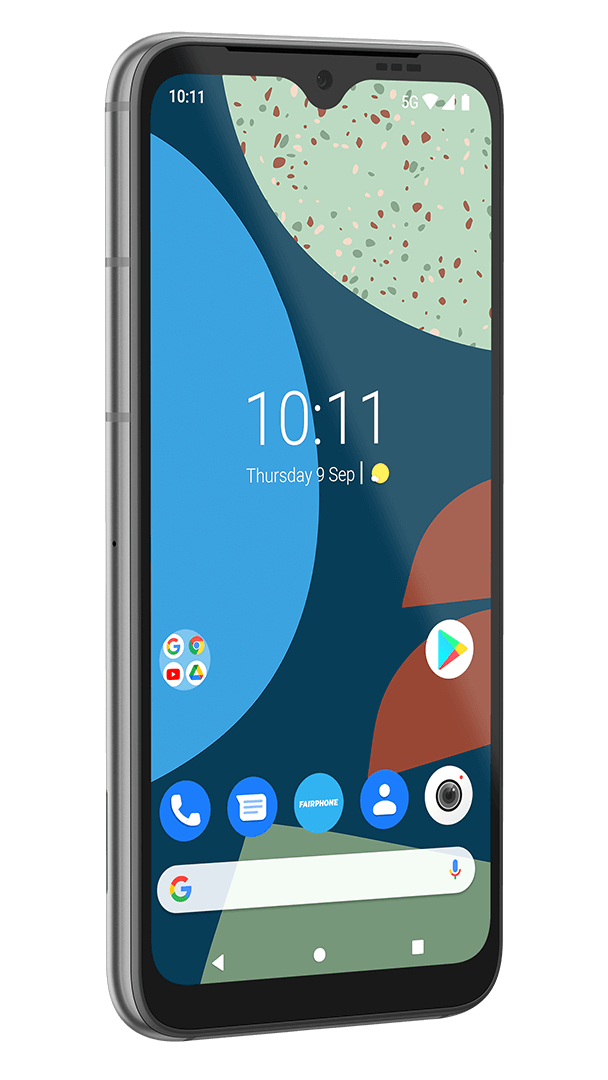 A Future-proof alternative that's distinct and powerful
Android™ 12
Our Android set-up is intuitive, simple to use, and customizable. It's also quick to set up. And with software updates until at least 2026, a speedy processor, and great battery life, you're always ready to go.
Super fast 5G speed
5G to match your pace. Video call your friends in HD. Stream high-quality music. Download on the go. But there's no rush, really. Get started with your existing SIM card and switch over when you're ready.
Full HD+ display
An immersive 6.3inch Full HD+ display that reflects all your needs. High quality encased in a smooth aluminium body and soft, recycled back cover. Functional approach meets robust design.
Dual Camera System
Our dual camera 48 MP system captures every moment. In detail. Ultra-wide. In high-def, and at night. With 4k video resolution. Inspiring memories and creating new ones.
A closer look.
Your camera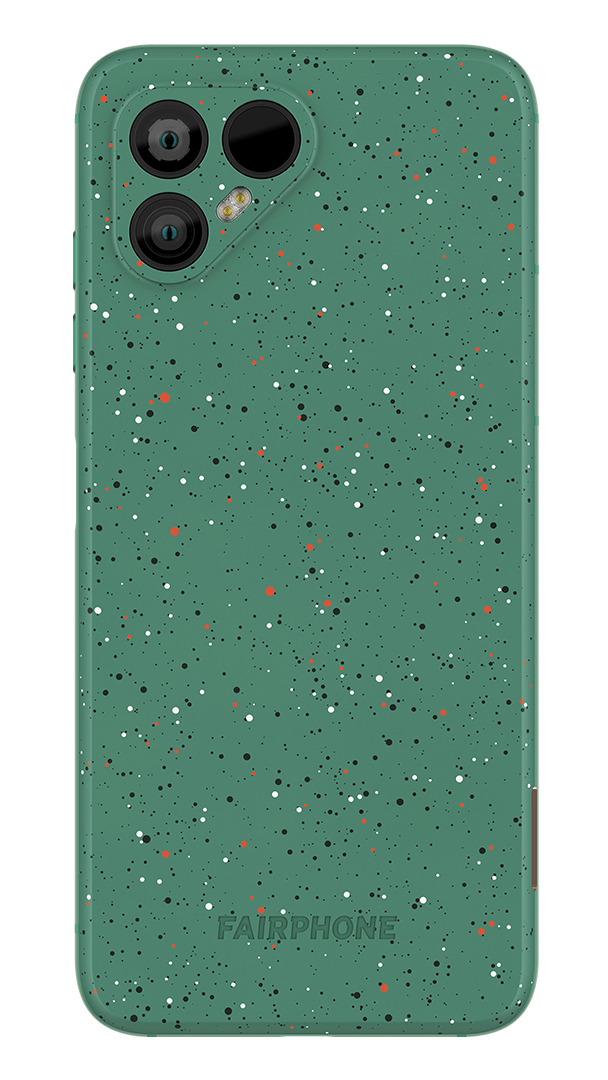 Dual cameras for dual clarity
Main dual camera
Dual 48MP premium lenses. Detailed image quality in wide angle.
Ultra Wide
To expand your horizons
48MP ultra Wide lens and f/2.2 aperature 120° field of view
Dynamic videos
All the features you need
1080p picture quality
4K video resolution
Slow-motion
Advanced image stabilisation
What's inside your phone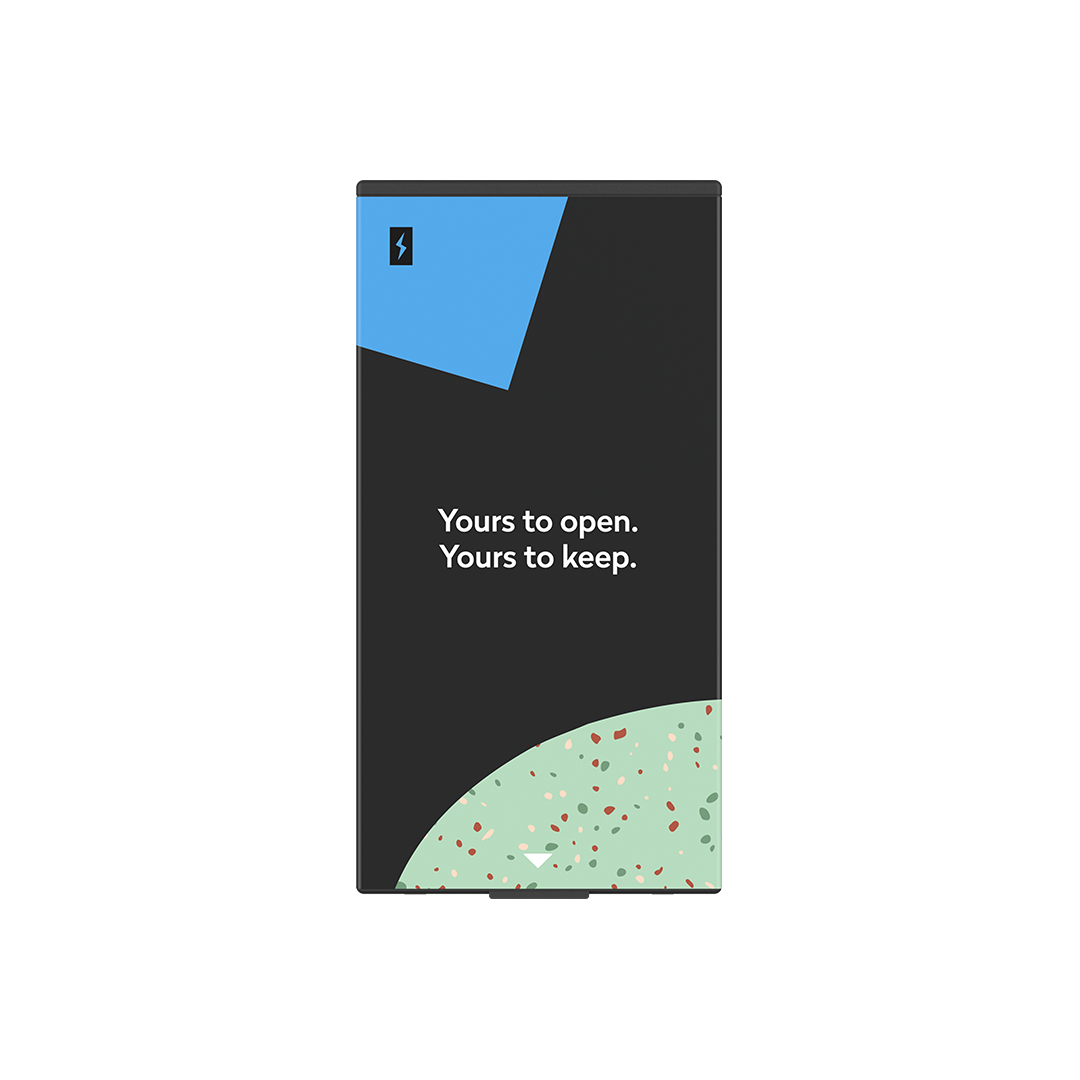 Battery
We're working with the Fair Cobalt Alliance to integrate fair cobalt and responsible lithium into the supply chain. This battery is both easy to swap and a positive development.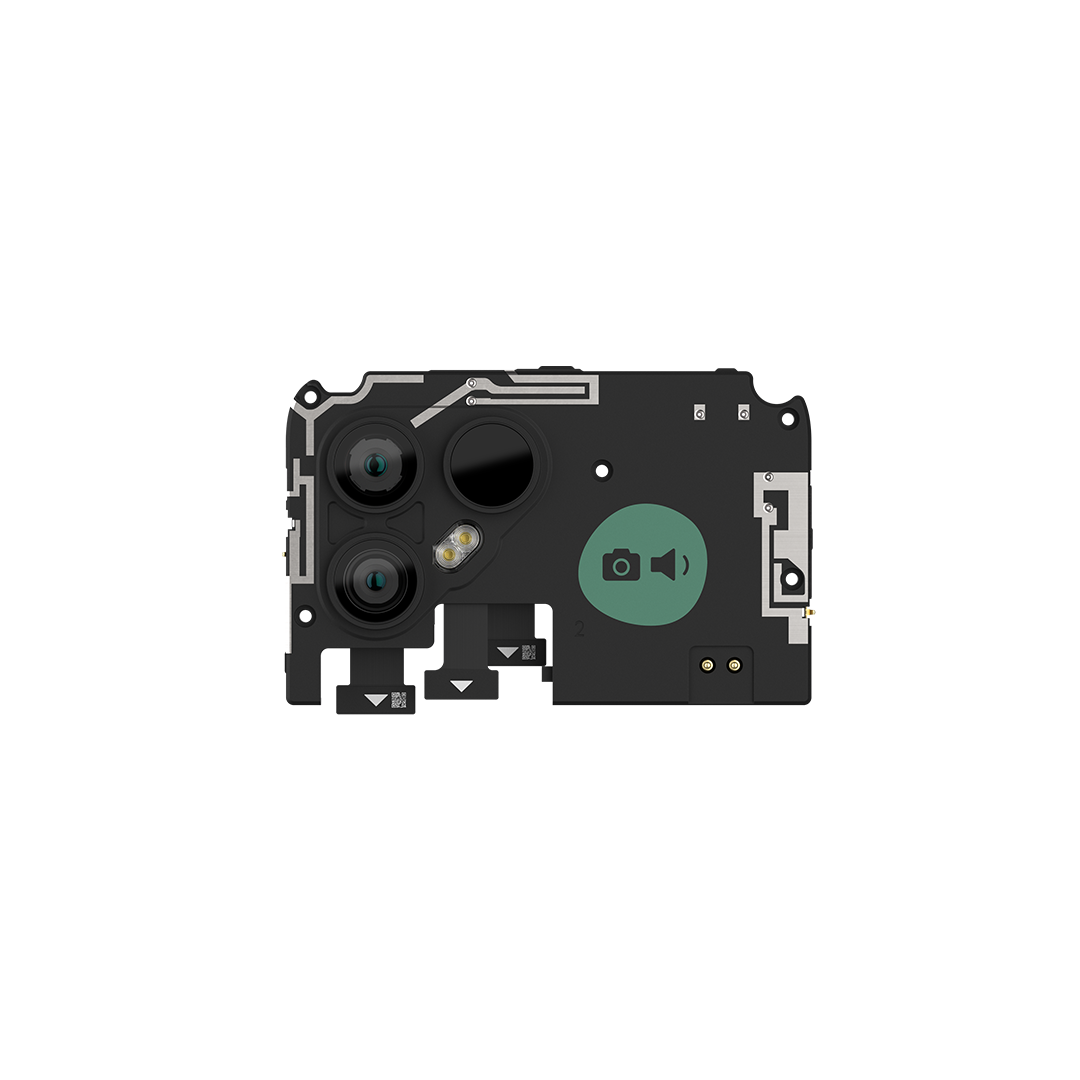 Camera
Cameras, like a picture, should be long-lasting. Our main camera and selfie camera are replaceable.
What else is long-lasting? Fairphone works with the camera supplier to ensure safe working conditions and improve worker voice and satisfaction.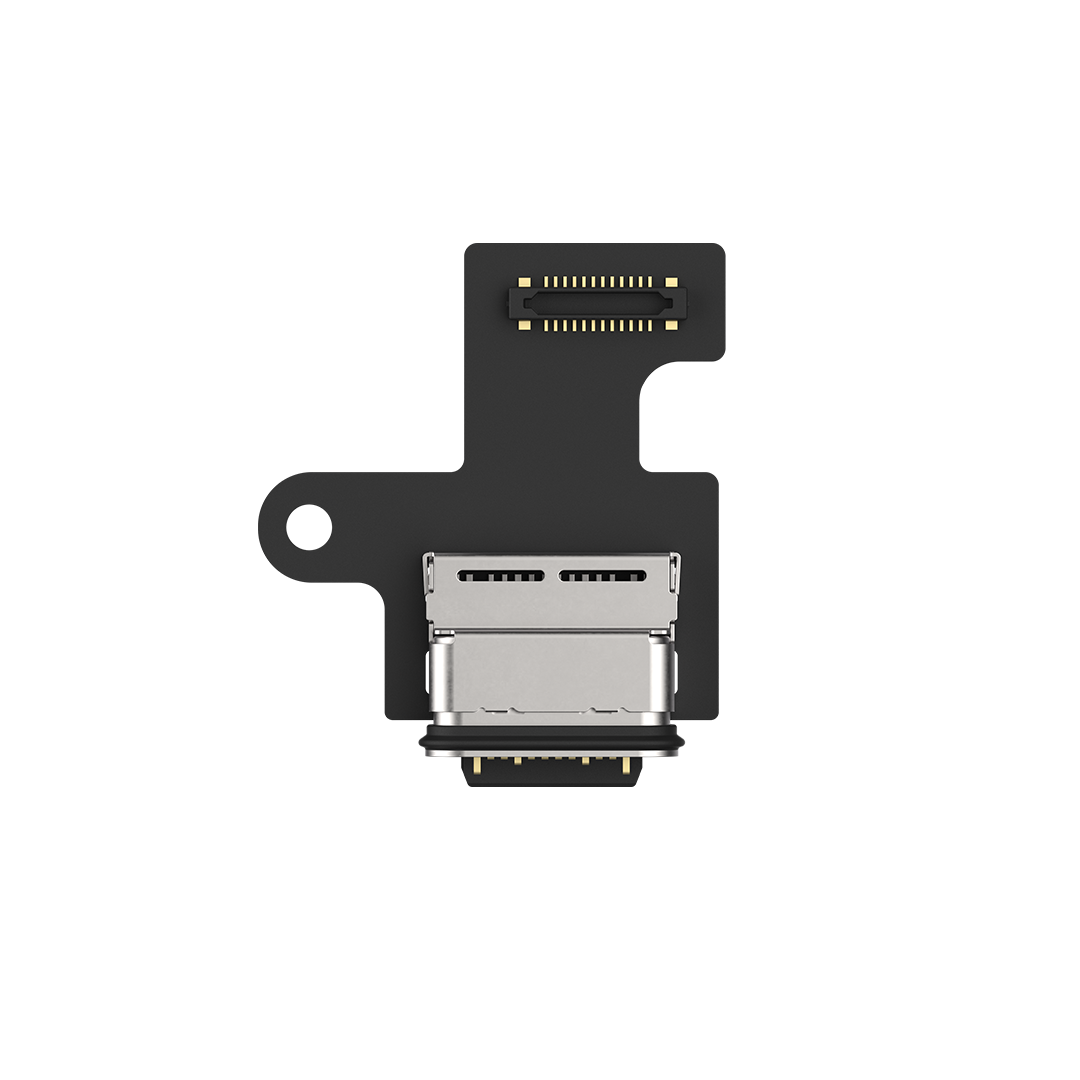 USB-C
The USB-C port is the unsung hero of our devices. It's used daily to charge our phones or transfer our data. That can take a toll. But there's no need to call it quits. All our USB-C ports are fully replaceable. Simple and easy, just as it should be.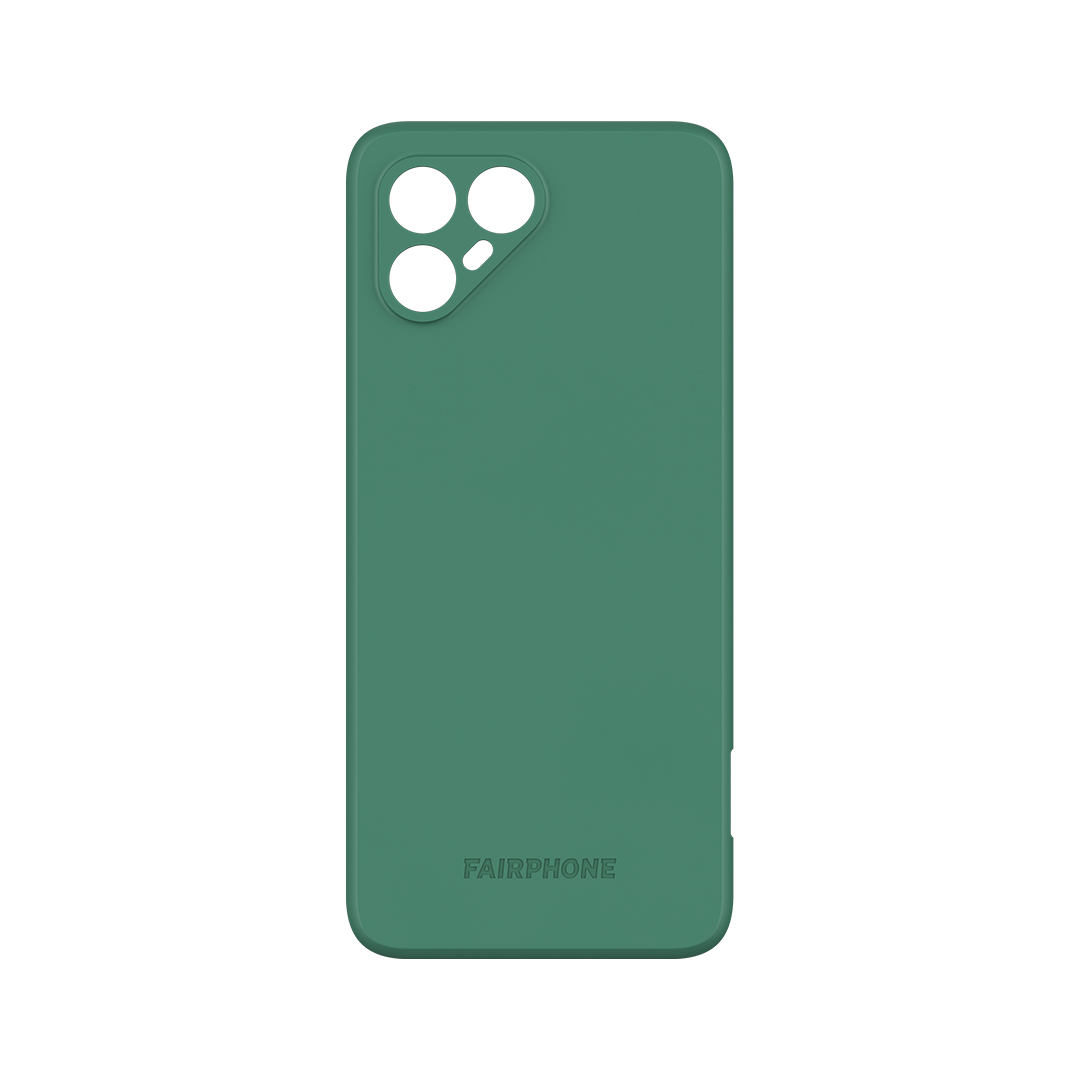 Back cover
The back cover is what you hold onto the most. Made with 100% recycled plastics, the Fairphone 4 goes the extra mile to bring you closer to sustainability. And it feels great.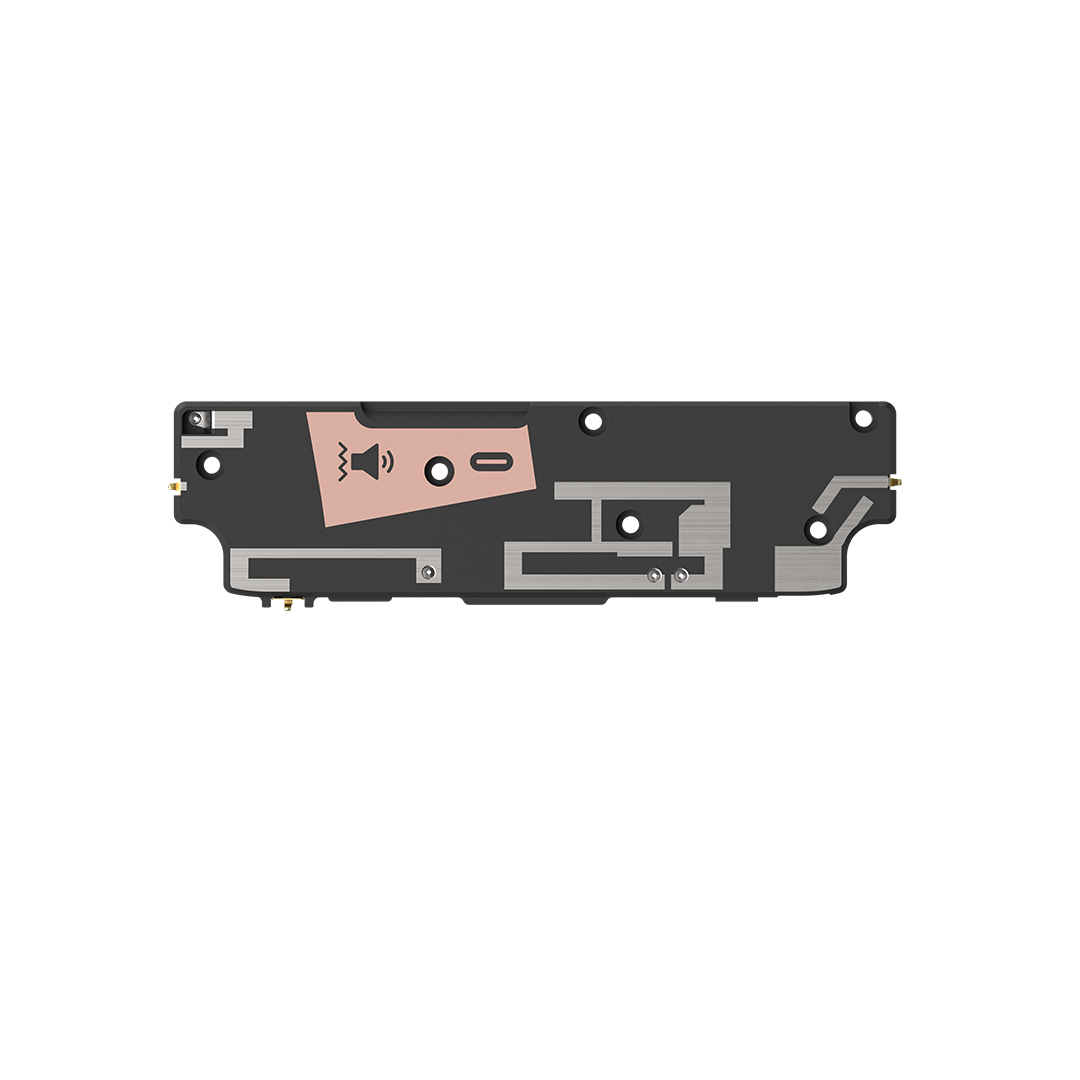 Loudspeaker
The loudspeaker was made by many hands. So we work with the speaker supplier to ensure safe working conditions and improve worker voice and satisfaction. Everyone deserves a voice.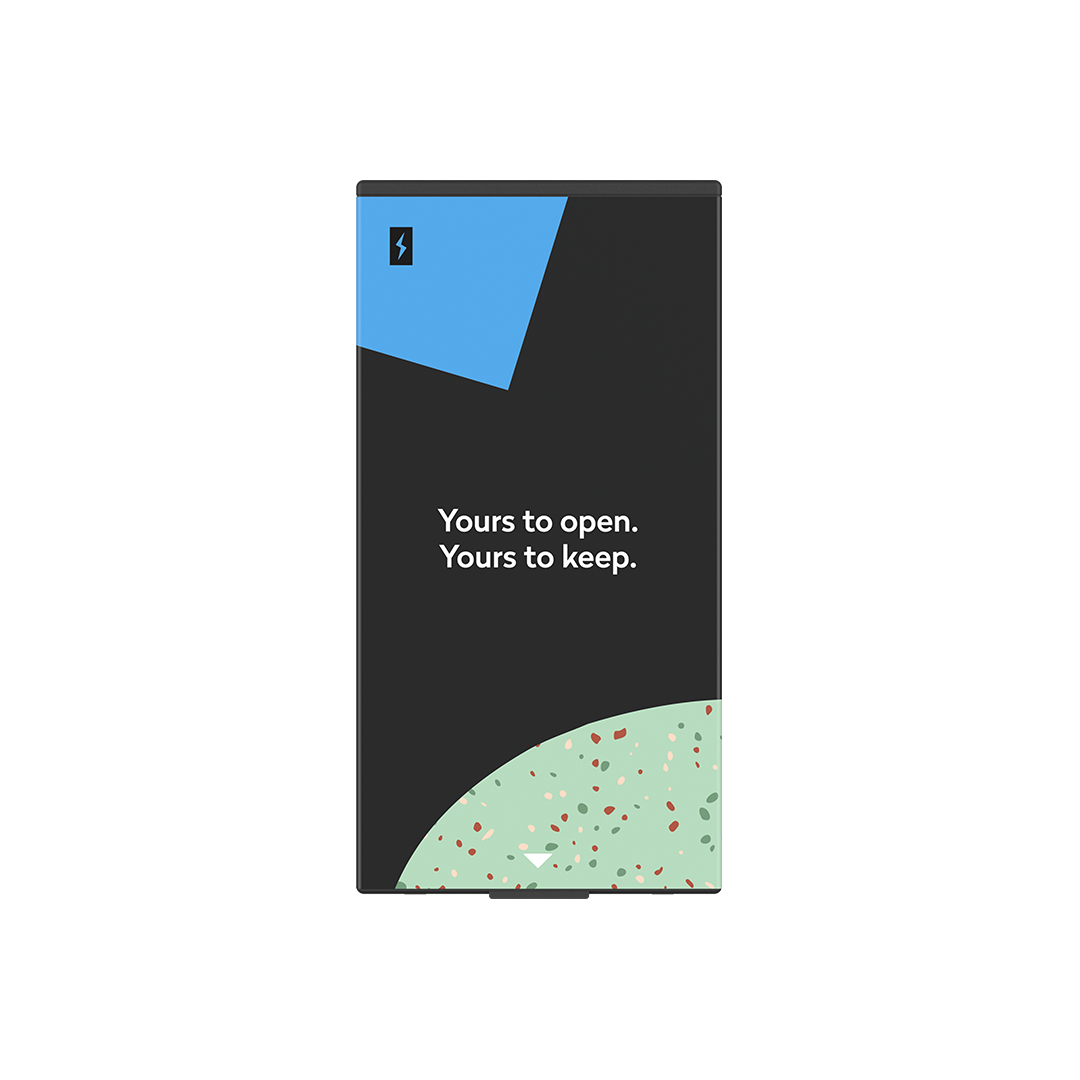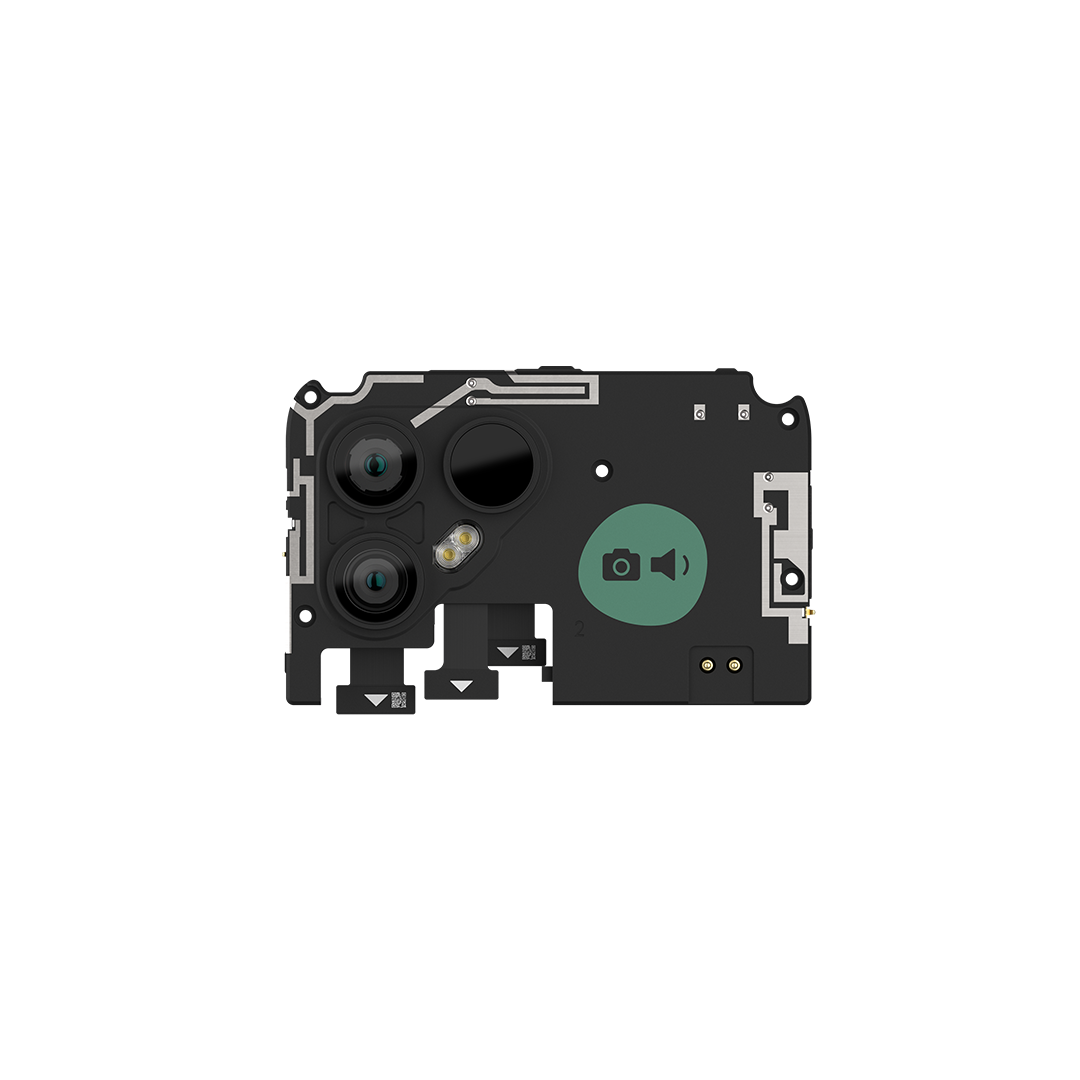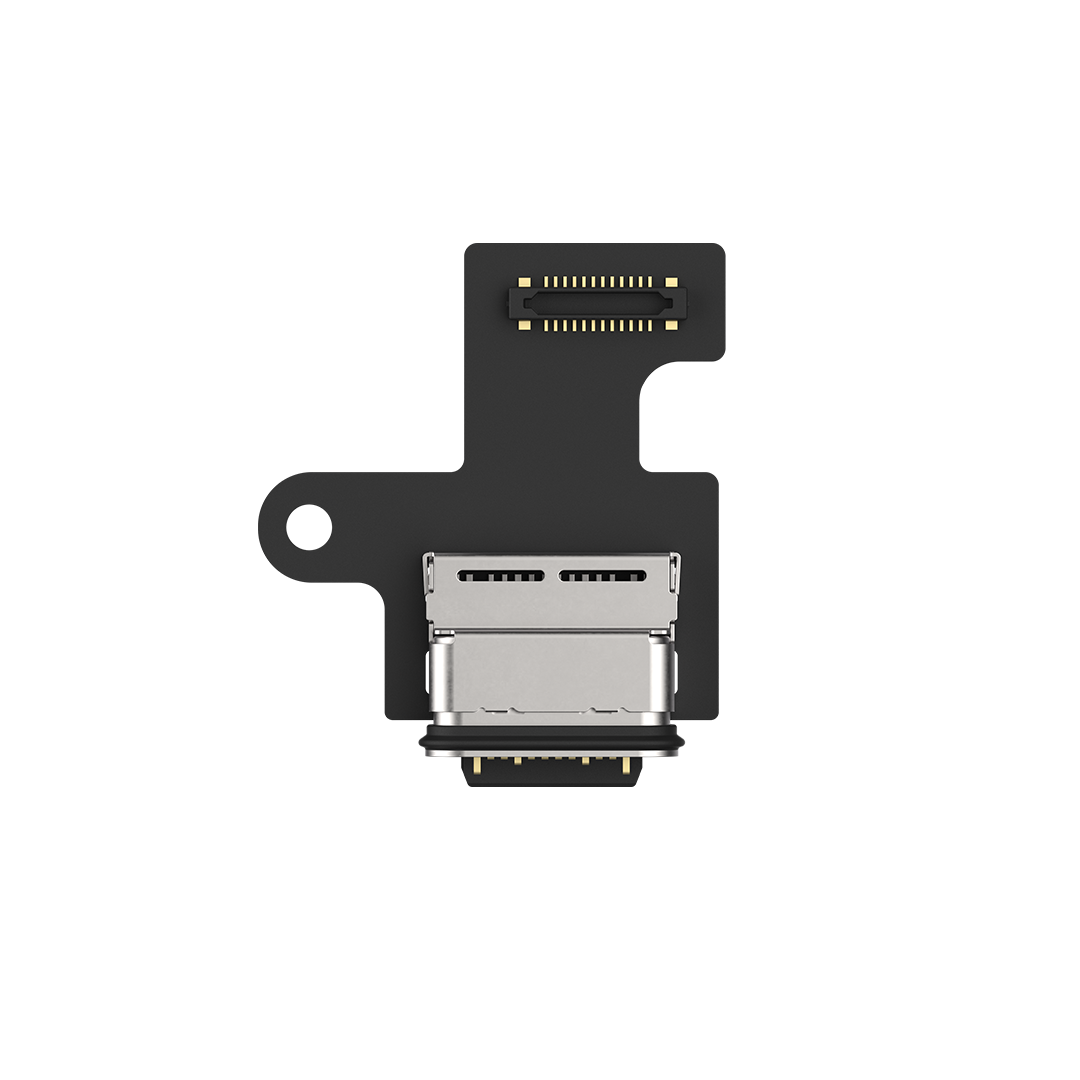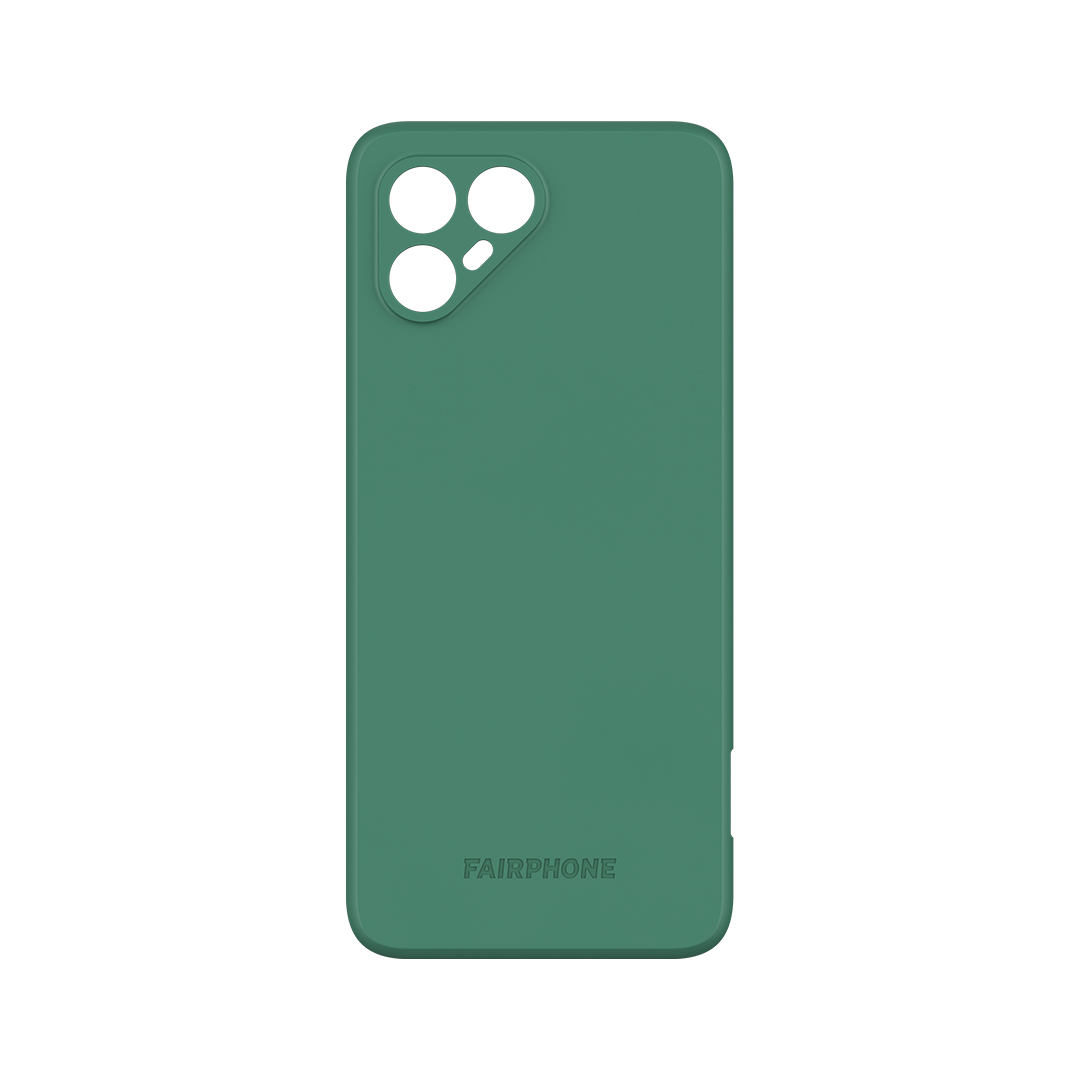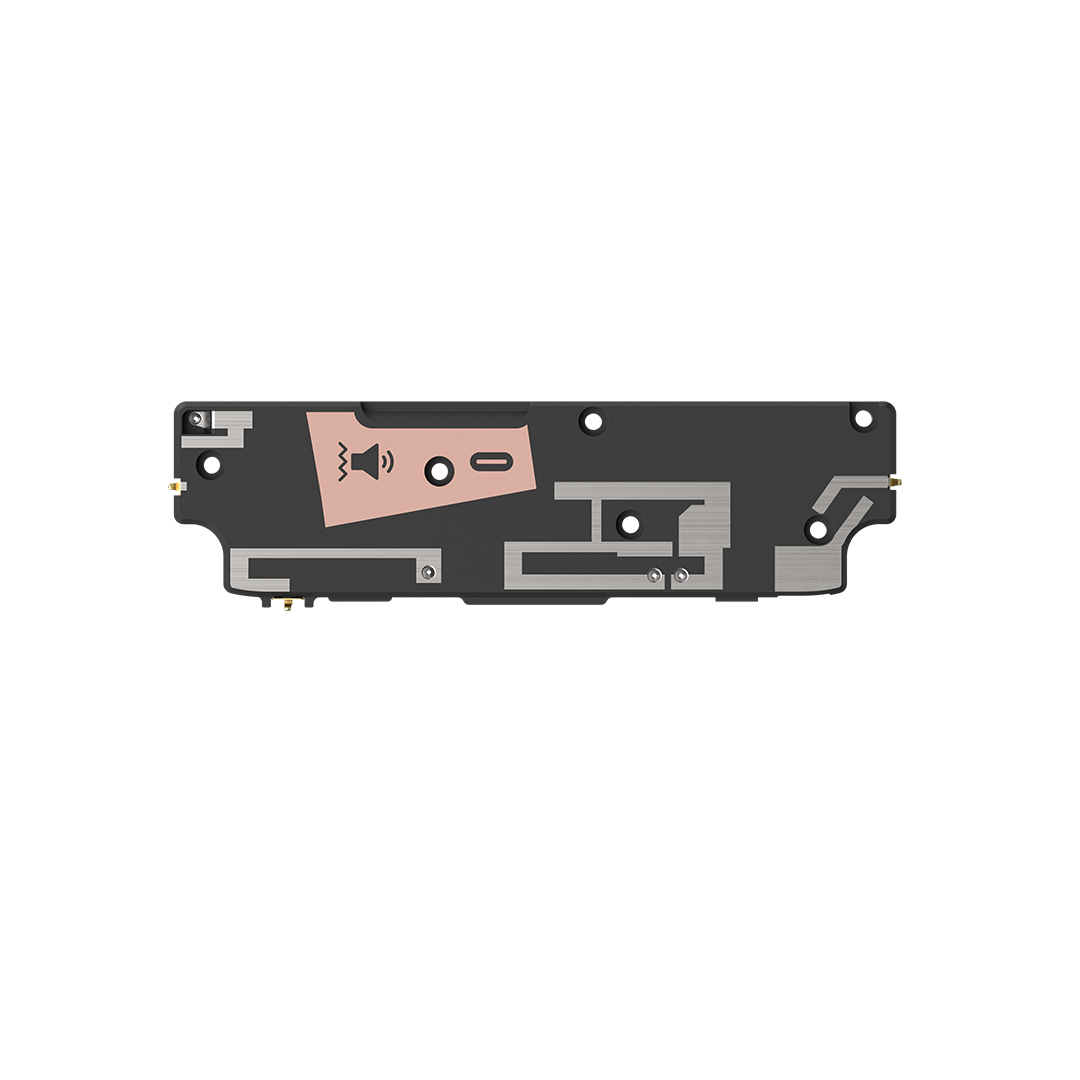 How it's made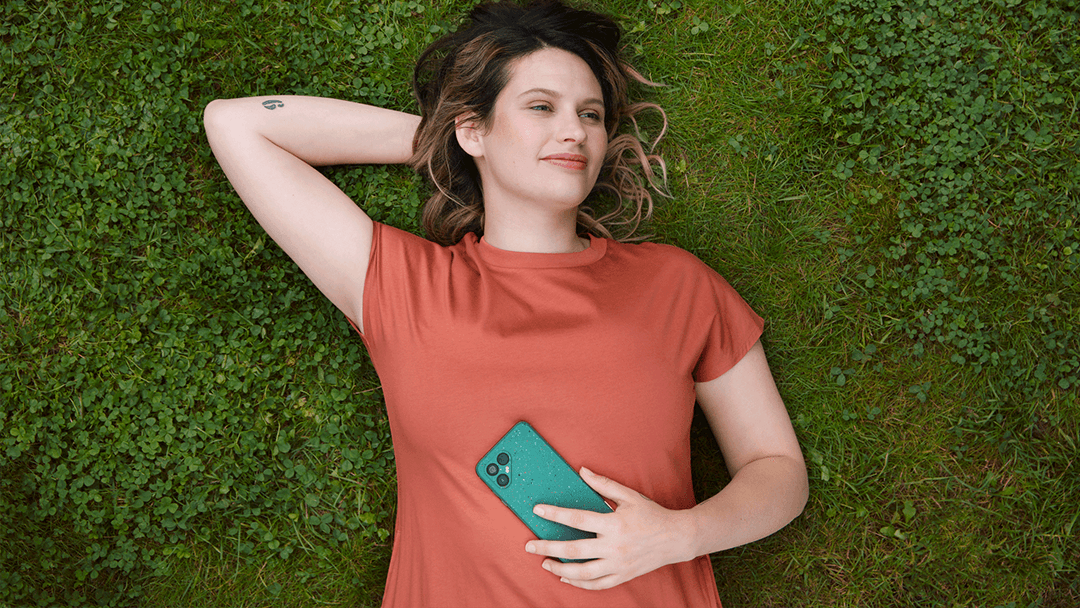 Electronic waste neutral
When you buy a Fairphone 4, we recycle or give one old phone a second life. This means 100% compensation for the material we put into the market. Making it e-waste neutral. A goal we can all get behind.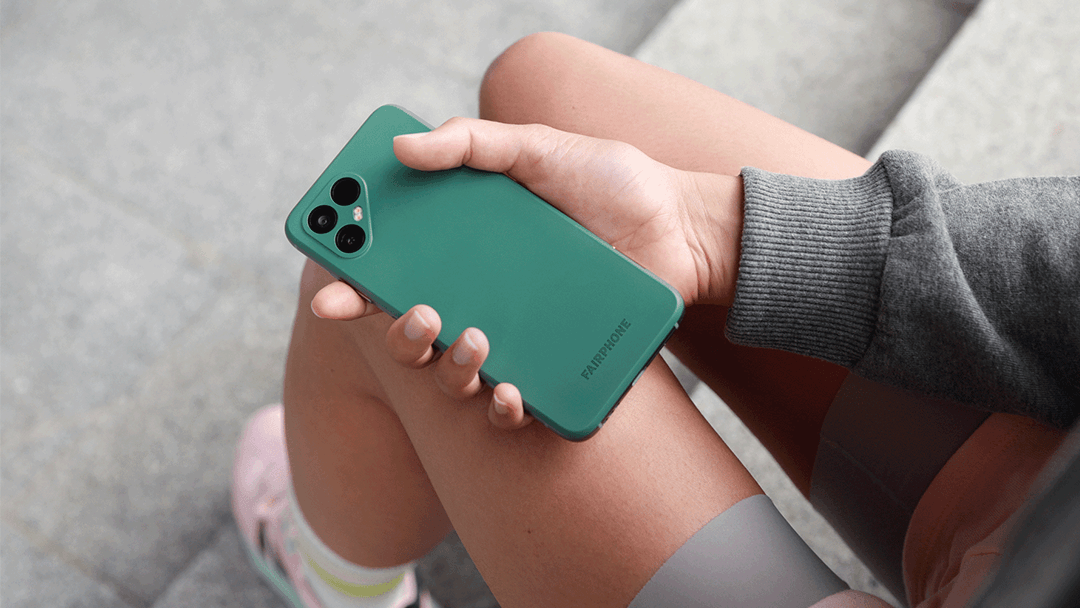 Fair & recycled
The Fairphone 4's body is machined from aluminium from ASI certified vendors. And we've designed it with 100% recycled plastics back cover. Using even more materials that are responsibly sourced and conflict-free.
Made with respect
All the parts in the Fairphone 4 come together in perfect harmony because people made it that way. With each Fairphone 4, we've worked with suppliers to reserve a living wage bonus for factory workers.
Specifications
Fairphone 4 is packed with future-proof specs.
Qualcomm Snapdragon 750G (SM7225)
64-bit Octa-Core processor
Processor speed up to 2.2GHz
Qualcomm Adreno 619 GPU
6GB/8GB RAM - 128GB/256GB internal storage
External storage capacity: microSD up to 2TB (SD 3.0)
3905 mAh removable Li-ion battery
200 hours whilst idle
13 hours with phone calls
50% charge in 30min with minimum 20W charger
The battery will keep 90% of its original capacity after being charged 547 times (full cycles)
Nominal capacity: 3905 mAh/15.03Wh
Nominal voltage: 3.85V
6.3 inch Full HD+
LCD (IPS) touchscreen with Pixelworks technology
19.5:9 aspect ratio
1080 x 2340 resolution
410ppi pixel density
Corning Gorilla Glass 5, 0.7mm, fully laminated
No. of colors: 16.7 million
Dual 48MP rear cameras - F1.6 and 2.2 with HDR
25MP selfie camera - F/2.2 with HDR support
Primary Camera - OIS Camera
48 megapixel resolution with 48 megapixel output
0.8um, 8000x6000 (48MP)
Dual LED flash, single tone detection
1/2" sensor
f1.6 aperture
Autofocus (Closed Loop)
Image Sensor IMX582
Optical Image Stabilization (OIS / SMA)
Color Sensor and TOF sensor
Up to 8x Digital zoom
Max video resolution 4000 x 3000 (4K UHD)
Video capture 1080p @ 30/60 fps 4K video resolution @ 30fps
Slow-motion @ 120fps and 240fps
Sub Camera - Ultra-Wide
48MP resolution
0.8um, 8000x6000 (48MP)
1.6um, 4000x3000 (12MP output)
Macro focus
Autofocus
Color Sensor and TOF sensor
120 degree angle
f2.2 aperture
Dual-tone LED flash
1/2" sensor
Image Sensor IMX582
Selfie Camera
25 megapixel resolution with HDR
1/2.78" sensor
ƒ/2.2 aperture
Image sensor IMX576
Digital Image Stabilization
Fixed focus
Up to 8x digital zoom
Video capture 1080 at 30fps
Color Sensor and TOF sensor
Wi-Fi dual band (2.4 GHz + 5 GHz) - Bluetooth 5.1 + LE
NFC for card payments & more
WiFi 802.11 a/b/g/n/ac
WiFi direct supports
GNSS standards: GPS, Glonass, Galileo, Beidou
A-GPS-support
Max SAR-head (W/kg (10g)) = 0.467 W/Kg
Max SAR-body (W/kg (10g)) = 0.867 W/Kg
Max SAR-limb (W/kg (10g)) = 0.867W/Kg
Dual SIM, both 5G enabled
(One physical Nano-SIM slot (4FF), 5G enabled* and One eSIM, 5G enabled*)
* Only one SIM card slot can be active on 5G radio technology at a time
5G
Downlink: 2.3Gbps Uplink: 200Mbps
5G supported bands Sub 6 NSA banden: n1/n3/n5/n7/n8/n20/n28/n38/n41/n71/n77/n78
4G
Downlink: Cat. 18 / 1.2 Gbps Uplink: Cat. 13 / 150 Mbps
MIMO - 4x4
4CA Carrier Aggregation
VoLTE + VoWiFi (depending on local network)
4G suppported bands: 1/2/3/4/5/7/8/12/18/19/20/28/32/38/40/41/71
Maxe upload speed 150Mbps
3G
HSDPA - Cat 24
HSUPA - Cat 6
3G supported bands: 1/2/4/5/8
Max download speed 42Mbps
Max upload speed 5.76Mbps
2G (GMS, GPRS, EDGE)
2G supported frequencies: 850/900/1800/1900 Mhz
USB Type - C
Fingerprint scanner
USB 3.0 with OTG
Display Port Support
Accelerometer
Gyroscope
Proximity
Side-mounted fingerprint sensor
USB Type C
Dual SPK, External speaker loudness: 98db @ 10cmd
DispExternal Display, Video out support via Miracast (WiFi) or DisplayPort (wired via USB-C port)
Supported audio-codecs
AAC, LC, AAC+, eAAC+, AAC ELD, AMR-NB, AMR-WB, FLAC, MP3, Opus, WAV, Vorbis, ALAC, AIFF, AP
Supported video-codecs
HEVC, H264, VP9, MEPG-2, H.263, Divx, Xvid
Unique modulair design with IP54
Length 162 mm
Width 75.5 mm
Thickness 10.5 mm
Weight 225g
Drop test according to MIL810G test standard
TCO Certified
9.3 out of 10 repairability score (256GB variant)
9.2 out of 10 repairability score (128GB variant)
Fairtrade gold integrated in the supply chain
Fairphone is B Corp certified
Fairphone received the Ecovadis Platinum medal in 2021
Learn more about our mission and how we focus on making a positive impact
You can also read our detailed explanation about How your Fairphone 4 is Sustainable, Long-lasting and Fair
6GB RAM and 128 GB internal storage Color: Grey
8GB RAM and 256 GB internal storage Color: Grey, Green and Speckled Green
see more specifications
What's in the box?
Everything you need to get started. No more. No less.
1
Fairphone 4
2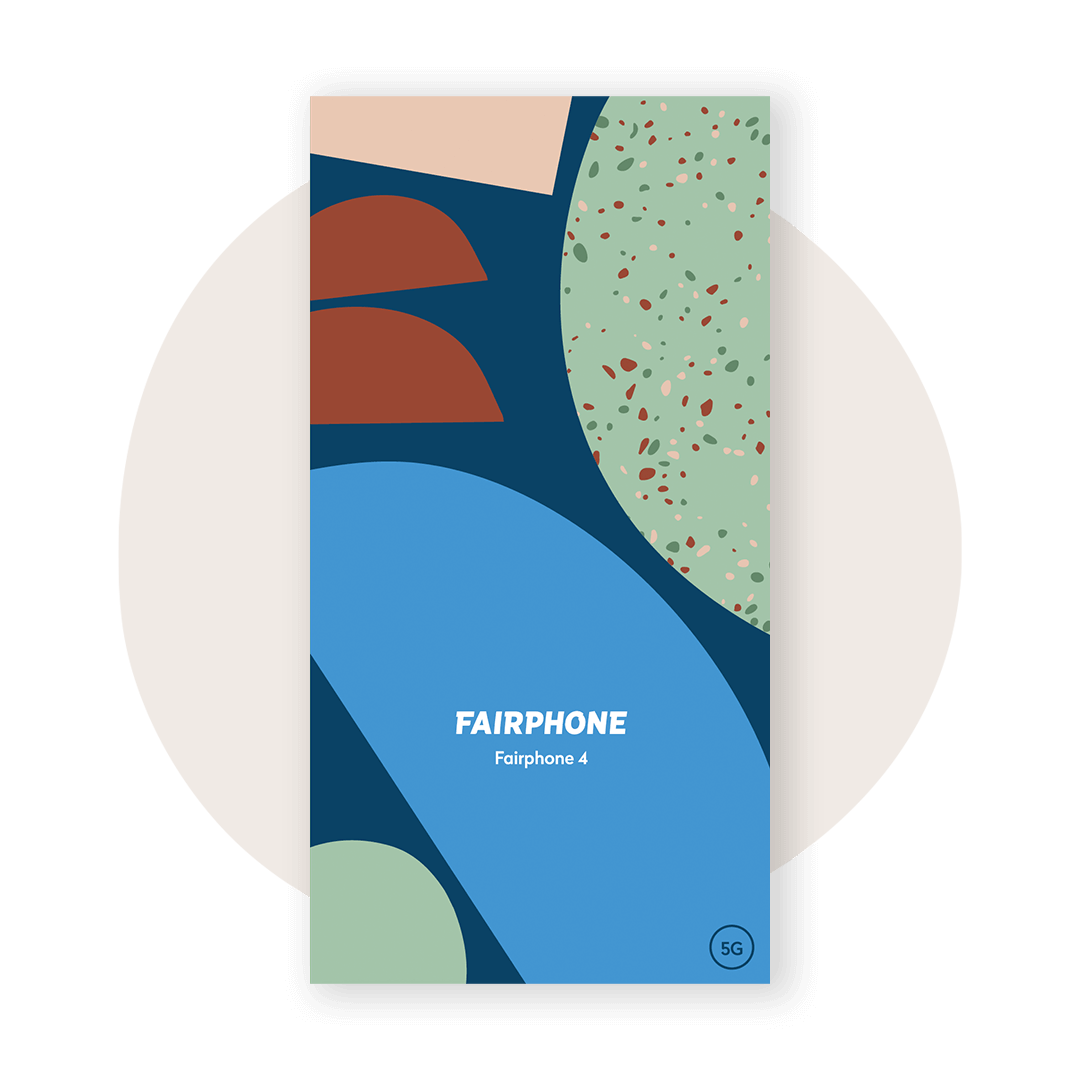 Eco-friendly packaging
Some things are not in the box, and here's why:
We do not include a USB Cable, charger and audio jack adapter in this box because we believe that it's better to save the environment through the reduction of plastic waste. Of course, it's possible to buy one of these products if you need it.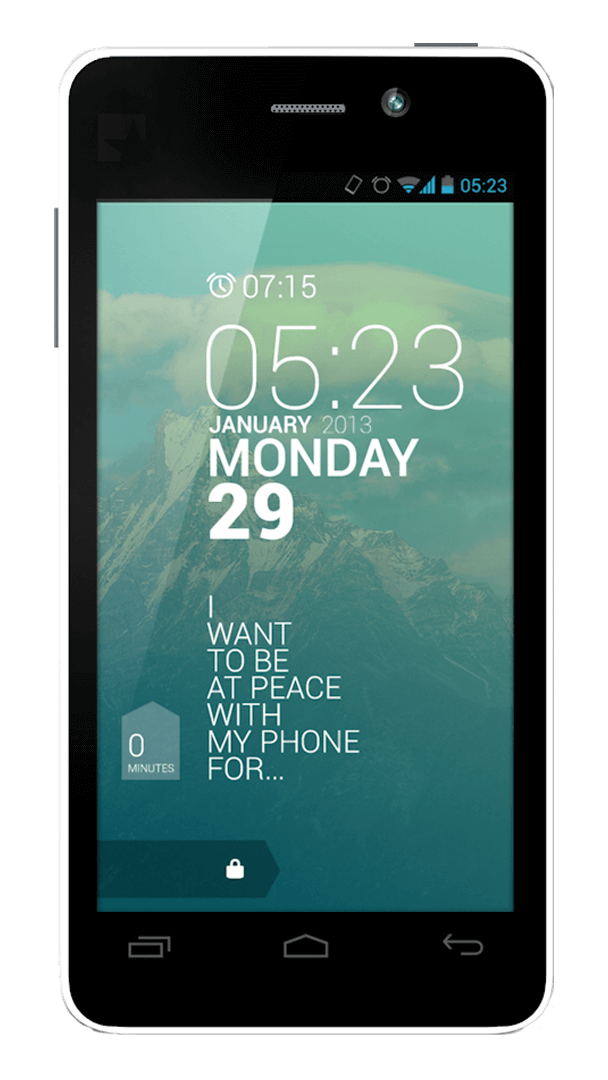 Give your old phone a second chance
Do you have an old phone lying in a drawer somewhere? Why not reduce the waste? Find out how much it's worth to see if you're eligible to receive credit.
RECYCLE YOUR PHONE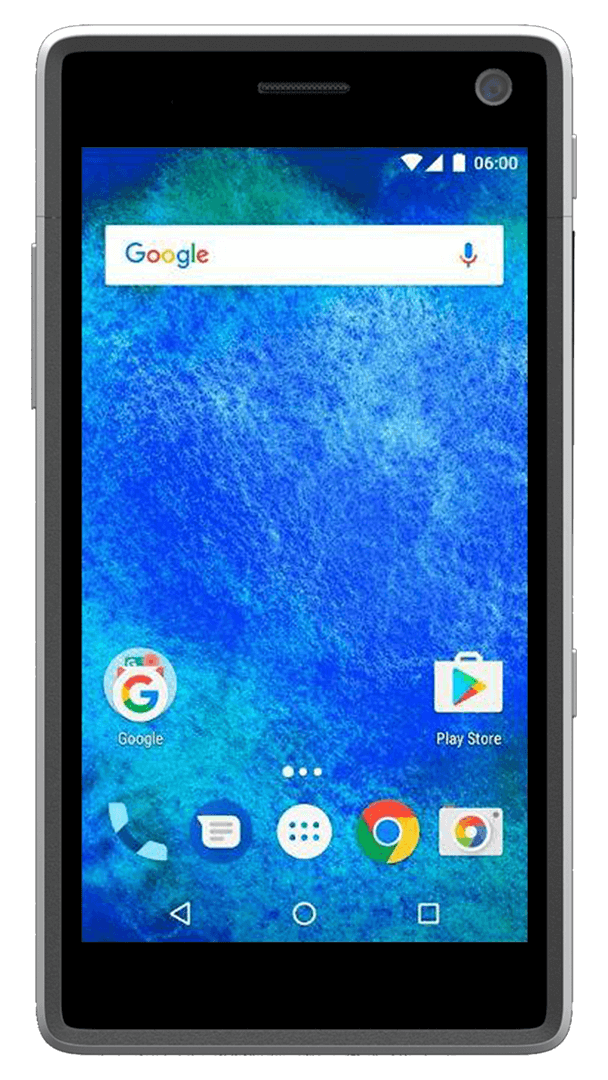 Your phone is yours
Yours to open, yours to keep. That means you can repair your phone yourself. Nothing is glued shut. And you don't need expertise to swap out a battery. It's all done with ease.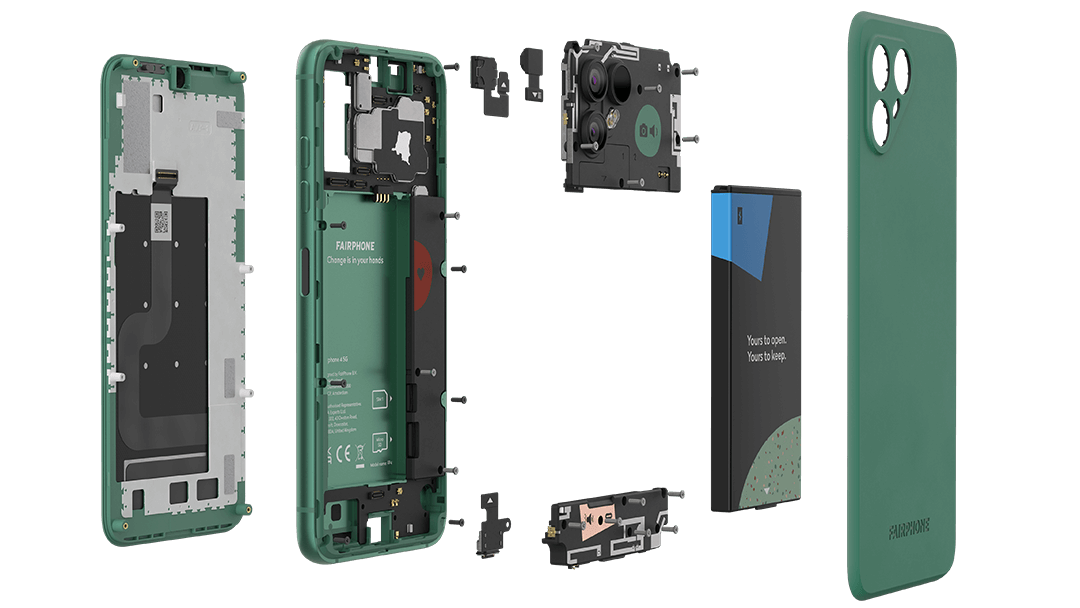 Good for the planet & your wallet.
Get your own Fairphone 4 refurbished today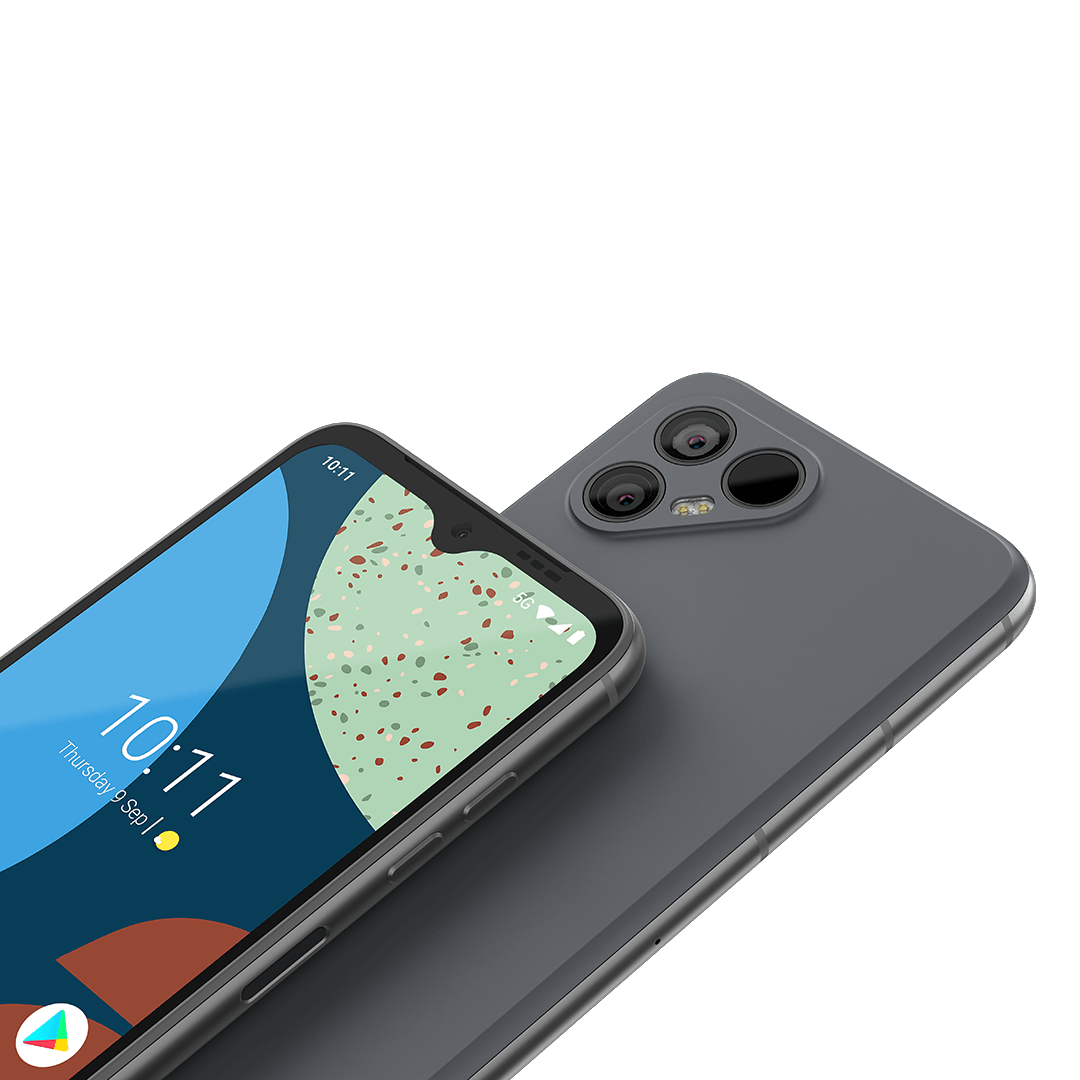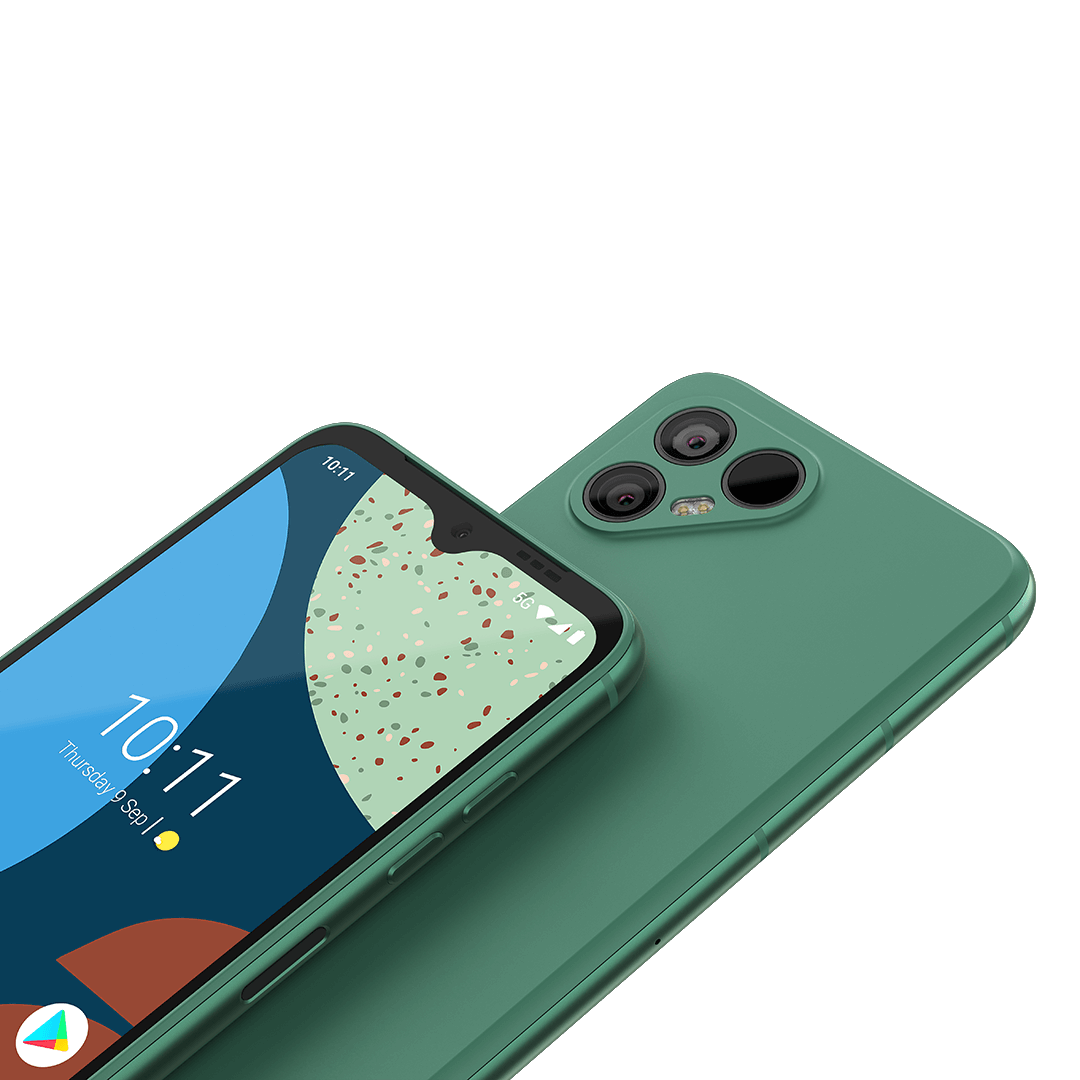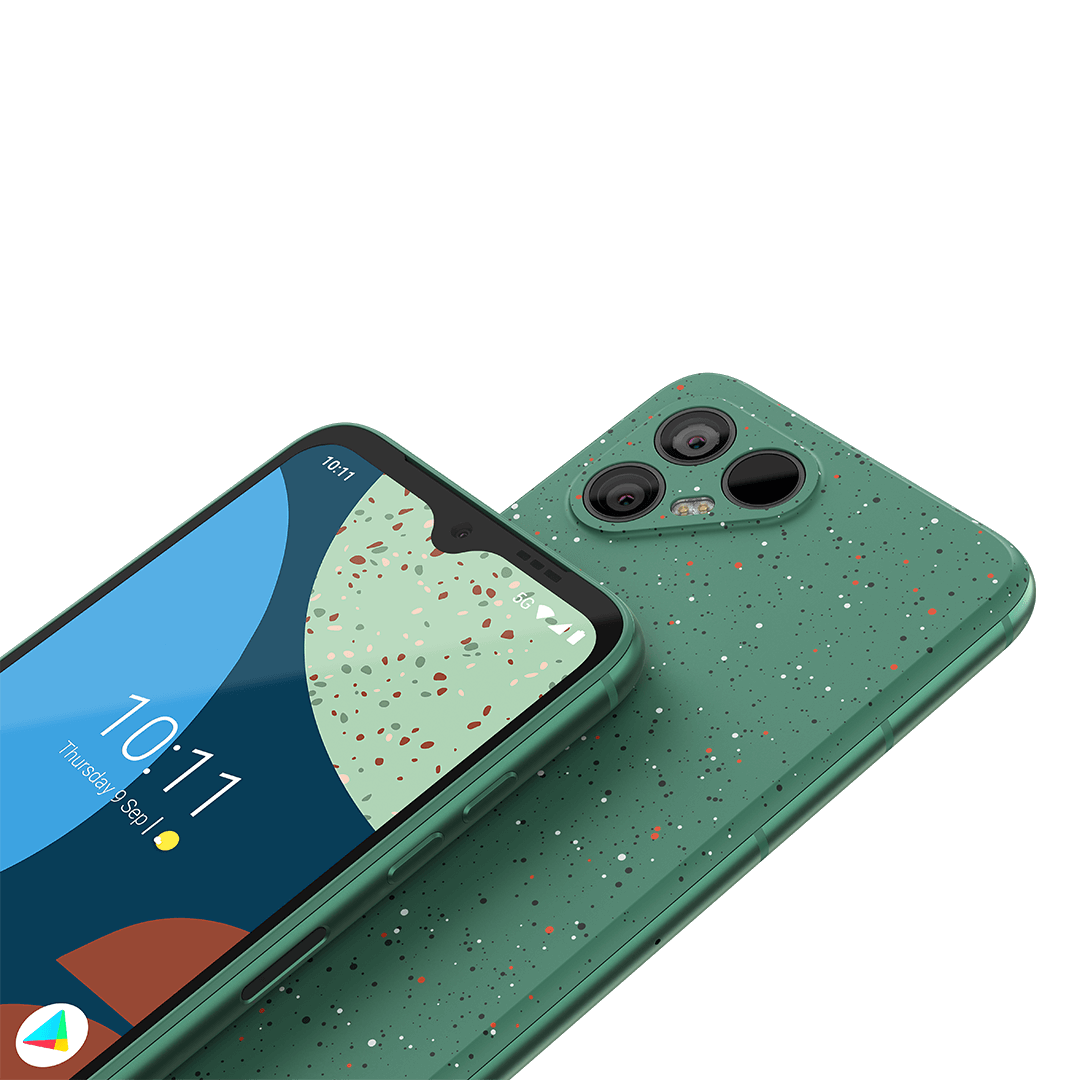 FAIRPHONE 4 refurbished
It's the same great Fairphone 4. Just fully factory refurbished and priced even lower. That's easier on the planet and your wallet.
buy now
Frequently asked questions
What is the difference between a used phone (2nd hand) and a refurbished device? How long is the warranty? What about software updates?

The Fairphone 4 New Life Edition devices are tested by technicians for full functionality and have been carefully repaired where needed, always with original spare parts. This means they are restored to their original condition and their lifespan is extended. Each of these phones is as good as new, and comes with:
A well functioning battery (guaranteed with minimum 80% capacity).
Software updates(guaranteed until the end of August 2026, though we are aiming to extend that to the end of 2028).
A 5 year warranty on any Fairphone 4 (regular and refurbished sold until 31 December 2023 and then 3 year warranty on anything sold from 1 January 2024.
A second hand phone (sometimes also called a used phone) isn't tested and often doesn't have any guarantee.
Why did you call it 'New Life Edition'?

We called it 'New Life Edition' because by refurbishing the devices, we are giving them a new, second life, instead of throwing them away to become electronic waste.

How long will spare parts be available for?

We aim to be able to provide spare parts for 4 years after the last device was sold.

Will the phone come with a new battery? What does 80% capacity mean?

More than 80% of the full capacity (minimum of 3124 mAh of the original 3905 mAh) guaranteed doesn't sound bad, right? We're all about longevity, so we'll test all batteries and replace only those that are under 80%. Worry not, we'll also include one free new replacement battery if you experience any battery issues during the warranty period.

What will the devices sold be like aesthetically? Will they have scratches? Will those be registered somewhere, so I am not blamed for wear and tear?

The refurbished phones will have at worst 1 or 2 slight scratches on the display, never located in the center of the display. This will not be noticeable in the daily usage of the device. There could also be minor scratches on the back cover and frame.
We have clearly defined aesthetics and visual requirements for the phones we allow to be sold as refurbished, therefore it is not necessary to "register" the visual state of the device. We are only selling refurbished devices of which quality we are absolutely certain about.

Best in green electronics
OUR IMPACT
There are more phones than people. And behind every device is a complex supply chain. With suppliers, local communities and the wider industry, we work for fairer materials and more responsible practices. Showing the electronics industry that we can do better.
Together we're disrupting the industry's short-term thinking that the world can no longer afford. And changing what it means to be "best."